Introduced as a part of the VISION fiber laser marking machine series, the metal laser engraver VS-F20 is a high-speed device with a long service life. This particular model is highly recommended for professionals in the advertising industry. Designed for the engraving and marking of logos, bar codes, matrix coding, and more, it is an excellent choice for the personalization of gifts and items such as rings, laptops, and mobile phones. The machine is fitted with a 20W fiber laser marker, a powerful upgrade from 10W. Deep metal engraving can now be achieved at a much faster pace.
Metal laser engraving samples

Advantages
1. The fiber laser has 100,000 hours of server life and is much more stable than a diode laser.
2. The metal laser is air-cooled and does not require the use of an industrial chiller. This eco-friendly design choice results in minimal noise emission and lower rates of power consumption.
3. Lack of an industrial chiller allows our machine to be more compactly built than diode laser alternatives. It can be modified for portability.
| | |
| --- | --- |
| | |
| Working table type | Portable type |
Working Concept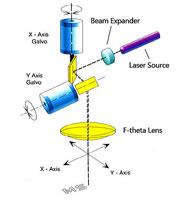 Depicted in the diagram is the simplified working principle of a laser marking machine. The laser source, scan head, and control system are key components in the machine makeup.
Fiber Laser Source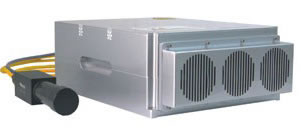 The Raycus™ fiber laser sources is the best in the domestic market. It lasts nearly 10 times longer than a diode laser marker.
Scan Head

The high-speed scan head of the metal laser engraver is ideal for logo and pattern engraving and can be applied to gift or item customization. The scan head can achieve marking speeds of up to 8000mm/s while maintaining a minimum marking line width of 0.015mm.
Control System & Marking Software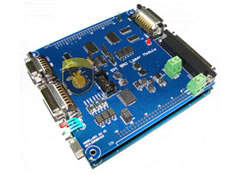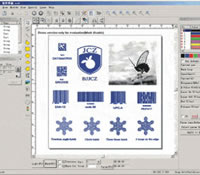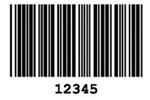 1. Barcode Engraving
Our machine can generate 1D and 2D barcodes including Code39, EAN, EAN-128, Code-128, UPC-A, Data Matrix, etc. Entering the access mode for extended Data Matrix ECC enables Data Matrix dot generation.


2. Image Engraving
JCZ marking software supports image engraving with picture formats including BMP, JPG, GIF, TGA, PNG, TIF, TIFF, etc. Now you can customize gifts and personal items such as lighters, laptops, and cell phones.
3. Text Formatting
Users can conveniently modify texts, times, dates, and serial numbers. Access data from imported document lists, txt/dynamic/EXCEL files, and customized database files.
4. Document Support
Accepted document formats include PLT, DXF, AI, DST, BMP, JPG, GIF, TGA, PNG, TIF, TIFF, etc.
5. Text Input
The onboard text input function supports TrueType, JSF (JCZ Single Font), DMF (Dot Matrix Font), and user-defined fonts.
6. Hatcher
Fill out 2D polygon lines and layer structures in the style of your choice. Beam compensation of closed polygon lines is done during the hatching process.
Applicable Industries
The metal laser engraver is widely used in industries such as glass, machining, electronics, and microelectronics.
Applicable Tasks
Our machine is highly effective for the precise marking and engraving of designs such as logos and barcodes on items including laptops, cell phones, doorplates, etc.
Technical Specifications
| | |
| --- | --- |
| Models | VS-F20 Portable |
| Laser power | 20W |
| Working area (mm) | 100*100 (Default) 150*150, 200*200, 250*250, 300*300 |
| Repeating frequency | 0-100 KHz |
| Light beam quality | < 2 |
| Minimum line width | 0.01mm |
| Repeating precision | ±0.002mm |
| Laser wavelength | 1064nm |
| Positioning | Visible Red Diode Light |
| Cooling | Air Cooled |
| Power supply | 220V/50Hz (Default), 110V/60Hz If need other standard power supply, please tell our salesman. |
| Power consumption | 600W |
Related Names
Durable Laser Marking Machine | Gift Laser Engraving Equipment | Mobile Phone Laser Engraving Machine