The media trimmer is a type of rotary paper-cutter that is specifically designed for the task of paper-fixing. The rail-cutter stand can be manually lifted for the convenient fixing of materials. An adjustable rotary-blade allows the machine to cut materials with different thicknesses. Sharp and durable, this blade can process all types of print mediums including photo paper, flex banner, KT board, KAPA board, etc. Restrictions do apply. KT and KAPA boards are limited within 8mm, photo paper and flex banners are to be within 2mm, PVC boards are not to be over 1mm.
Features
1. Working table is crafted from stainless steel.
2. Dual-directional cutting is available for your convenience.
3. Blade-depth can be adjusted.
4. The blade can be easily changed.
Specifications
Size
100"
Breadth
2,500mm(98.4")
Table Size
2680*330mm (106"*13")
Max Media thickness available
2mm
Package size
Cutter
2920*420*290mm
Stand
800*240*580mm
Package weight
Cutter
56kg
Stand
10kg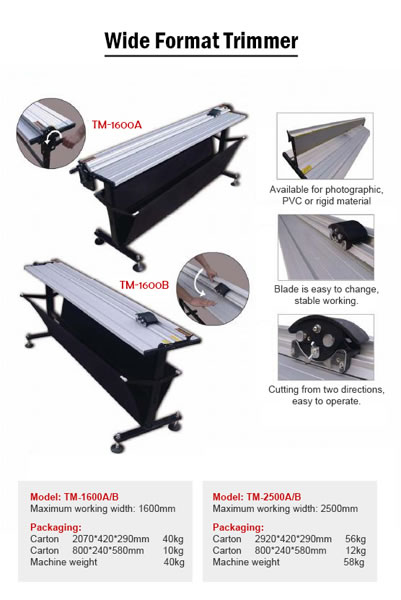 Related Names
Paper Cutter | Paper Trimmer | Paper Guillotine