The VISION CO2 laser engraver VS-5030 can cut and engrave thin non-metal materials including wood, glass, paper, stone, cloth, fabric, leather, acrylic, marble, MDF/HDF, double color sheet, etc.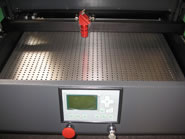 Optimized Structure
The machine is structured around a solid steel frame. The stainless working table can be displaced in smooth vertical movements.
Advanced Control System
The implementation of DSP and FPGA technologies allow MPC control cards to penetrate the technical bottleneck-a problematic issue in the laser processing industry. The intuitive control panel allows for the calibration of output power. The interface displays important information such as the file name, output power, working time, cutting speed, and engraving speed. The laser head can be positioned with the direction button.
High-Speed Motion System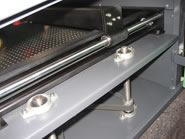 The laser engraver is fitted with a premium belt and a 3-phase step motor. It can process engraving speeds of up to 1000mm/s at a maximum tolerance of 0.05mm. The machine can facilitate curve cutting continuously at 60mm/s (standard model) or 300mm/s (advanced model).

Powerful Software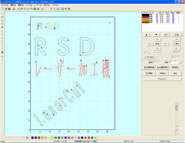 1. The software enables the cutting, scribing, or engraving of images and vectors at varying degrees of precision.
2. Intelligent path selection optimizes working efficiency.
3. Seamless connect to image programs such as Wenti, AutoCAD, and CorelDRAW. Support is available for hand-drawn curves in AutoCAD.
4. Supported image processing formats include BMP, PLT, DXF, GIF, and AI.
5. 360° slope engraving is enabled. The slope can be freely transformed with no limitations on speed; it is subject to the laser processing depth.
6. Advanced color management provides support for all color combinations. The engraving process can be partial or complete, programmed to follow a user-defined sequence.
Laser Tube & Optical System
A finer focal beam with a slighter light wane can be created with our gold coated silicon reflection mirror (10.6um wavelength) and imported ZnSe focus lens.
High quality laser tube
Gold coated Si reflective mirror
ZnSe focus lens
Accessories
Air pump
Exhaust fan
Water pump
Air Pump
The air pump clears the laser path of smoke, enabling precise engraving and accurate cutting kerfs. It is installed behind the machine. The blow mouth can be found on the laser head.
Exhaust Fan
The exhaust fan provides suction to dissipate smoke during machine operation. It is also installed behind the machine. Air entry is situated under the working table.
Water Pump
The water pump is a viable option for 40W and 60W CO2 laser tubes. However, its limited capabilities leave much to be desired. The operator must manually keep track of the water temperature while replacing the water every few hours. For customers not constrained by budget or those who wish to operate in a humid working environment, we highly recommend the Teyu industrial chiller. This low-power industrial chiller guarantees performance stability, greatly extending the working life of laser tubes.
Optional Accessory (Rotary Device)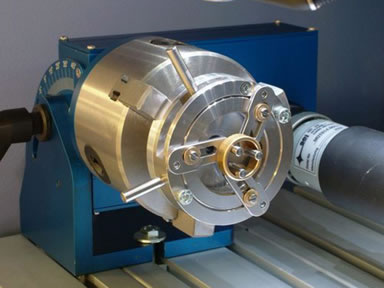 The rotary device is especially designed for up-and-down working table lasers. It can accommodate a large variety of shapes and sizes.
Applicable Industries
The laser engraver is well suited for industries such as glass, machining, electronics, and microelectronics.
Applicable Field
The machine is applicable for the engraving of designs such as logos and barcodes on items including laptops, cell phones, doorplates, etc.
Technical Specifications
Models
VS-5030
Working area (L*W, mm)
500*300
Available laser power
40W/60W
Net Weight
50kg
Equipment Dimension (cm)
105*72*60
Specification
Laser type
CO2 sealed laser tube, water-cooled
Cutting speed
0-60000mm/min (0-1968 inch/min)
Highest Scanning Precision
2500dpi
Locating Precision
≤±0.01mm
Minimum Cutting Line Width
≤0.2mm
Laser Output Control
1-100% software setting
Power supply
380V/220V/50HZ , 110V/60HZ
Min. shaping character
English 1.0 x 1.0mm
Graphic format supported
BMP, PLT, DST, DXF, AI
Software supported
CorelDraw, Photoshop, AutoCAD, TAJIMA
Operating environment
Windows98/2000/XP, Vista
Driving system
3 phases stepper motor
Color Separation
Available
For additional information, please contact a sales representative.